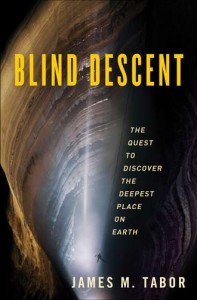 Caves and caving fascinate me, so when I saw there was
a book about supercave exploration, I had to read it. I am
so glad I did. I was absolutely glued to this book from the first page to the last. The only thing it lacked was a section of pictures, but that's the price I pay for reading an advance copy–the published edition has several pages of them. Even so, I was able to look those up on the internet so I could have a visual reference,
which made the book even more powerful.
This is not so much the story of cave exploration as it is about cave explorers. Tabor researched two premier cavers from the USA and the Republic of Georgia, and devoted a section of the book to each. American Bill Stone has led several expeditions into supercaves in Mexico, while Ukranian Alexander Klimchouk has headed several European expeditions on the Arabika Massif in the Republic of Georgia.
In addition to following the amazing accomplishments of both men, Tabor explained in great detail the hardships and dangers involved in supercave exploration. I felt like I was there on the expeditions; rappelling, digging, crawling, diving, and freezing underground for days or weeks on end along with the cavers mentioned in this book. I have nothing but respect for this handful of people who risk their lives for the thrill of going thousands of feet underground and braving the dangers there in order to share their discoveries with the world. There's pretty much no chance at all of me dropping down the first shaft of Cheve Cave, and forget it with Krubera, so I really appreciate this insider view.
I cannot recommend this book enough. It's highly informative, giving outsiders an intimate view of what goes into supercave exploration, and it's also an exciting page-turner. Tabor has a way of keeping readers on the edge of their seats as he takes us through real-life underground exploration. I found myself thinking of several
Good quality, will reorder.
Viagra professional
! Placing an order at our online pharmacy is simple.