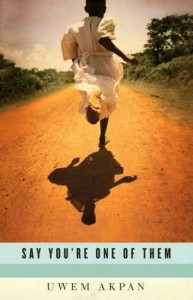 Say You're o
ne of them is a collection of five intriguing stories by Uwem Akpan, a Nigerian author. This book received rave reviews from the media and I think the cialis professional attention was well deserved.
What makes it stand out is that the author portrays what we would consider adult themes through the eyes of a child. The
five young narrators, in their innocence, are forced to face intricate situations where they have to deal with poverty, child prostitution, religious intolerance, human trafficking and genocide. These children are victims in a world they found themselves in, a world that they did not create. A world that is full of poverty, greed, ignorance and fear.
The five stories are set in Kenya, Ethiopia, Rwanda and Nigeria.
Akpan throws in some Swahili in the Kenyan story, a couple of words of Amharic for Ethiopia, Kinyarwanda into the Rwandan one, some French along with Pidgin English in one Nigerian story and a variety of uttering in the other, all which complement the narratives and give instant reality to the different characters.
In these stories there are no happy endings, which is mostly a reality for the people, both young and old, living in
these unimaginable circumstances. Readers, on the other hand, clearly see the evil at
play. By design, the book tugs your heartstrings; you pity the children, denounce the adults and deplore the circumstances.